Widower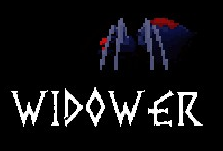 Hit Points: 1
Method of attack: Close Combat, Breath
First Seen: Undead Level
The Widower is a giant, antagonistic spider encountered by Volgarr throughout the
world of the undead
. It is an 'upgraded' variant of the
first world
's
Turantular
; bearing a different colour and body: It is a tinged purple-blue; with a red stripe running down its back in addition to its eight pale legs.
When provoked, it will approach Volgarr and spit a cloud of green venom at him; but only takes a single hit to kill.
Apart from pouncing at the player from above, the Widower will also follow the player along the ground and spit a venomous cloud upon reaching Volgarr. This attack can be blocked while ducking and easily avoided.
Appearances
Edit
The Widower appears in the Undead Level and Undead Temple; in addition to Fafnir's Tower.
The Widower is named for, and highly resembles the real-life black widow spider
The 'venom' it bears over the Turantular is another allusion to this, as black widows are known to be highly venomous
Ad blocker interference detected!
Wikia is a free-to-use site that makes money from advertising. We have a modified experience for viewers using ad blockers

Wikia is not accessible if you've made further modifications. Remove the custom ad blocker rule(s) and the page will load as expected.