Lizardman Hunter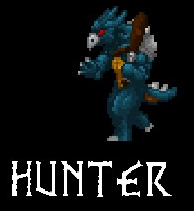 Hit Points: 2
Method of attack: Close Combat
First Seen: Jungle Level
Lizardman Hunters are the blue lizardmen seen in the first world. They are introduced fairly early as a harder upgrade to the basic
Lizardman
, and take two strikes to kill.
The Lizardman Hunter possesses the same club swing attack that the regular lizardman has; and as such its attack can be blocked or ducked without difficulty.
Appearances
Edit
The Lizardman Hunter first appears in the Jungle Level, and continues to re-appear throughout the first world's Jungle Level and Jungle Temple. As with several other enemies, the Lizardman Hunter can once again be faced within Fafnir's Tower.
The Lizardman Hunter often appears with several other Lizardmen in tow
Perhaps in allusion to their name, Lizardman Hunters often do not appear in groups with each other
Surprisingly, the Lizardman Hunter is slightly slower and has a smaller jump than both the Lizardman and Lizardman Warrior
Ad blocker interference detected!
Wikia is a free-to-use site that makes money from advertising. We have a modified experience for viewers using ad blockers

Wikia is not accessible if you've made further modifications. Remove the custom ad blocker rule(s) and the page will load as expected.